He's the marketing strategy you'll wish you found sooner!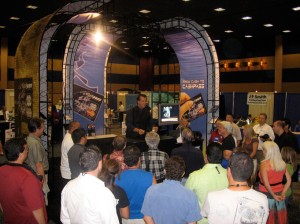 David Harris is one of the most sought-after corporate magicians in the U.S., called upon by Fortune 100 and Fortune 500 companies, as well as major industry associations. He'll engage your crowd and keep 'em laughing, all while communicating your most important marketing messages and qualifying leads.
David is a skilled marketer in the body of an entertainer, and he's your secret weapon for effective marketing at trade shows, corporate events, hospitality suites or as a host/MC at events such as user conferences and sales meetings. His up-close magic engages personally with your audience, while qualifying leads and communicating your key messages. On stage, David's 45-minute show is packed with comedy, illusions, and the kind of fun that can make every sales meeting, conference or other corporate event memorable!
In economic times when many companies were trimming their marketing budgets, David is a line item few have given up, a testament to how essential he's become in his clients' marketing plans.
Make your event the success it has to be! See for yourself how the Memorable Magic of David Harris gets the results you want.